An essential part of effectively displaying your products online and in print is understanding the effect of the right background for product photography. Done right, and any type of product photography will result in images that can establish branding, catch the attention of potential customers, provide shoppers with a detailed photo, and many other purposes your image can serve. But if done wrong, you could have a background that distracts the viewers, conceals the important details of your product, and diminishes the quality of the product. That's why it's important to know the best background for product photography – whether used in the studio or edited in during post-production – and how it can affect your images' purposes.
Here are some of the basic backdrops often used for a product photography background, as well as when these types are best used for different kinds of purposes. Consider taking note of our tips when brainstorming your product shoot ideas, or give Stellar Studios a call to have a skilled team of photographers to produce high-end product photography images.
White Background
A popular and versatile choice for all types of product photography, the basic white background is a must-have for every business' list of image assets. If you have an online business that has a product page, want to create print materials like catalogs, or have materials that allow your customers to view your product in detail, your products against a clean white background is a must-have.
These images are often used more for the sales stage rather than advertising materials. That's because a white background has a low impact on your product and is free of anything that can distract someone from looking at your product. If your product has a lot of details you'd like your viewers to get up close and personal with, it's best to go with a white background.
Your white background can be done in a studio using a white backdrop, lighting equipment, or even more compact solutions like a lightbox. If you have limited space, your white background can also be done in post-production. However, be sure to only retouch the unnecessary blemishes and shadows, as removing all the shadows can make your product look flat and dull.
Solid Color Backgrounds
If white is too plain, doesn't match your aesthetic, or clashes with the colors on your website, you could opt to use different solid colors instead. Black and gray are popular neutral choices, but feel free to play around with different colors until you find the one that matches your aesthetic.
Black and gray are popular options for various products. Black is much more dramatic and best for brighter and transparent or translucent items as it reduces the light reflections that can affect the final product. Gray, on the other hand, is for more modern images, though some retouching will be needed to remove the shadows, as it can affect the quality of a solid gray background.
While aesthetics play a role in choosing your colored background, keep in mind the emotions or connotations associated with certain colors and if they're appropriate for your product. For instance, red is a popular color in advertising because it's associated with a sense of urgency and can increase your hunger and heart rate. It's effective for some products, but not necessarily for products that are meant to help people relax or wind down.
Gradient Backgrounds
Gradients are a good option for a stylish but simple kind of background for product photography. Just like solid colors, which colors you select will depend on your brand, aesthetic, and the product you want to advertise. However, a rule of thumb when using gradient backgrounds correctly is to take the lightest spot of the background and place the focal point of your product around that area.
Using a gradient background on its own can result in a simple and elegant image. But if you want to elevate your image, you can retouch your image to create a reflection beneath the product for an image that has more depth and more elements. Both the gradient background and the reflection can be done during your photoshoot using mirrors and adjusting your lighting, but you can also edit these in during post-production.
Natural Backgrounds
Depending on your product, natural elements used as a background for product photography can make for an eye-catching background for social media posts. Nature isn't always symmetrical or uniform, and the texture and style can be eye catching for ads, social media posts, and other image assets you can use to capture the attention of your target audience scrolling through their feed. Some natural textures you can use include:
Sand – use different colors of sand that contrast with the color of your product.
Rocks and stones – for products where you want to sell the idea of quality and durability.
Wood – depending on the staining and color of your wood, the type of image you can produce can range from a home and hospitable image, to a luxurious and mysterious mood.
Greenery – flowers are best for products targeted for women, while plant backgrounds highlight the organic, all-natural, and refreshing aspects of your product. For long-term use, consider buying fake plants and flowers, but invest in pieces that look real.
Themed Backgrounds
The best product photography backgrounds don't necessarily have to be a singular color or item. You can use a themed background paired with relevant props to show either your product in use or what need a person has for your product.
For example, if you're a jeweler selling engagement rings and wedding rings, you can use backgrounds and props associated with proposals and weddings. A background of venues associated with these, both indoors and outdoors, can be a creative way of displaying your rings in your brand's box. And if you're selling food from a certain cuisine, creating a background with props during a shoot or added in post-production can help viewers associate your food as an authentic dining experience.
Fabric or Rug Backgrounds and Flat Lays
Certain types of fabrics and rugs can provide interesting background ideas for product photography. The type of fabric you choose can convey a certain message, so some types aren't appropriate for all products. For instance, silk, lace, and tulle may be better if your product's target audience are women, while leather and denim are more suited for a male audience. Silk fabrics and fur rugs can be used to establish luxury for high-end items. Some fabrics may also be for all genders, but its color can sometimes lean towards more masculine or more feminine image.
You can opt to either use fabrics or rugs as a background or as a flat lay to take photos of your product from above. Before your photoshoot, make sure your fabric or rug is clean and free of any lint or dirt. You may also need to iron out your fabric for a clean and crisp appearance. These can also be fixed in post-production.
Post-Production Backgrounds
Do you have many product shoot ideas but find that staging a set for your product isn't practical or feasible with limitations like space, equipment, and budget? You can opt to shoot pictures of your product against a white background or in an area with good lighting, and then later have the design you want edited into your image using retouching and editing.
All product photography images, regardless of backgrounds, need some amount of retouching to look their best and to erase the flaws, blemishes, and other errors that can't be avoided during production. The quality of your final image will depend on how skilled your editor is with editing and retouching software, so make sure you're aligned with your vision for the image to get the best results.
Metal Backgrounds
A metal background has a versatile range, depending on how you use it. If you're doing food products and using metal items like skillets and cutlery, a darker theme can be good for luxurious restaurants and high-end food products, while metal with more scratches and stains can have a more durable and home-like appeal. Metal can also be more masculine and can be used to represent the durability of your product.
When taking photos with a metal background, keep in mind that some types of metals can reflect light, which can change the final product you want. Adjust your lighting accordingly until you get the right level of brightness and contrast.
Liquid Backgrounds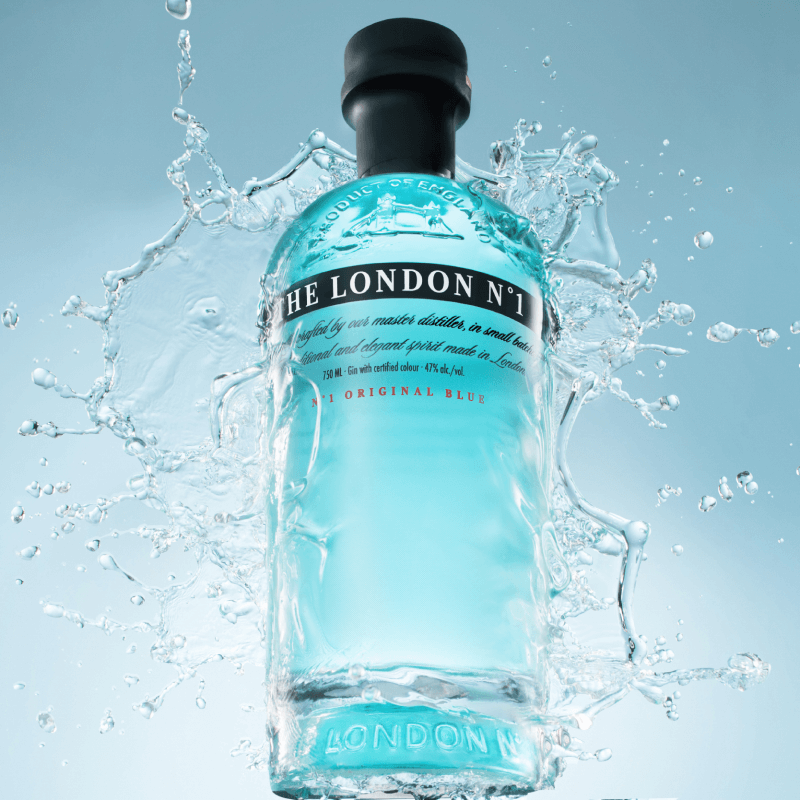 Liquid backgrounds are best for liquid products like beverages, cosmetics, anything beach-related, and many other suitable products. When done correctly, the splash creates an interesting texture and visual that's sure to capture the attention of viewers online and in print ads.
While some editors may be able to play around with natural-looking liquid splashes with editing software alone, taking images of liquid backgrounds can be tricky without the right equipment. Use a camera that offers high-speed photography with a fast shutter, otherwise you might end up with blurry photos with every attempt to get the best final results.
Stellar Studios Delivers Vibrant Product Photography That Captures the Best of Your Product
Your product photography background can make or break your images, which is why it's important to use one that fits your branding, aesthetic, and the product you're selling. These are just some of the examples of commonly used backgrounds in product photography, so feel free to explore and find other items you can use as a background to best display your image.
But for high-quality images that bring out the best in your product, Stellar Studios can help. Our team consists of skilled photographers and editors with years of experience in photography and advertising. Let our product photography studio deliver images that can boost your brand and give you a versatile range of images that fit your needs. Get in touch with us today to learn more.