Professional food photography can transform even the simplest plating into a gourmand experience.
Have you ever seen a video of someone reviewing food? Oftentimes, they use wordy, visceral descriptions to give the viewer a sense of inclusion and an idea of how the food tastes. However, that description does not come close to how audiences feel when they show an impressive B-roll of the very same dish.
When it comes to food photography, the figure of speech "feast your eyes" is quite literally what food photography studios are attempting to inspire from viewers. After all, the first step to enticing a hungry customer is making them crave your food.
With the right partner for professional food photography service, even the humblest dishes can look like a delectable treat. A plate of pita and hummus is simple and unassuming, but with commercial food photography, this snack can look like a delicious amuse-bouche or side depending on how you wish to market it.
Partner with a food photography studio to level up your restaurant or food biz branding for more sales and better online engagement.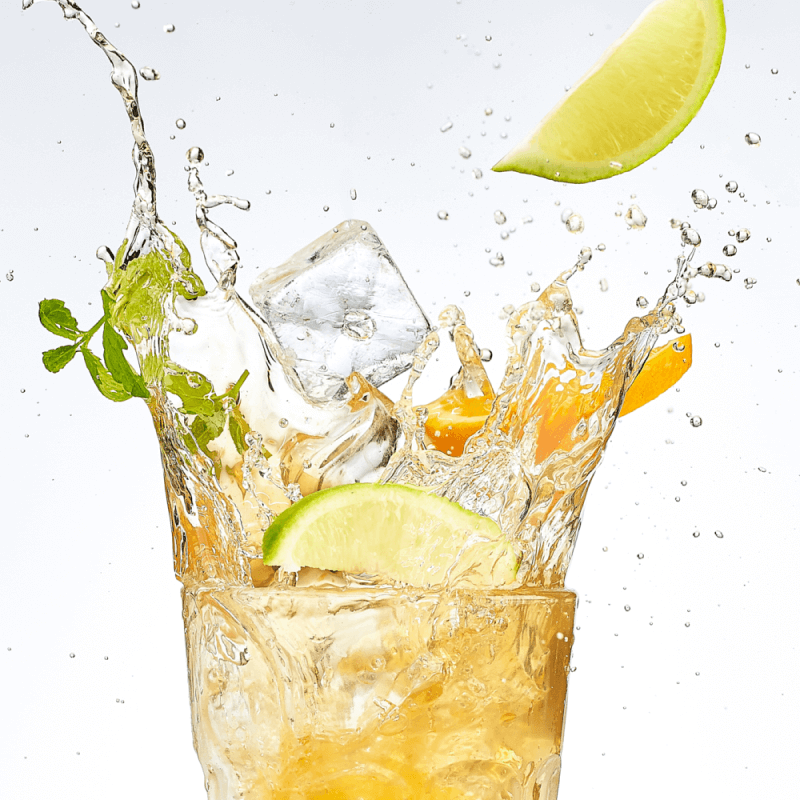 Why Hire a Professional Food Photography Company?
Outsourcing is a common practice for businesses, especially those that want to focus on business development and operations. And food businesses and restaurants are some of the busiest ventures of all.
Not all food businesses have the resources and time to dedicate to an in-house creative team, so partnering with a commercial food photography company can help improve your online branding and visuals without the cost. This gives you time to develop your menu, raise sales, and stay on top of your accounting, and community management.
Food is a multi-sensory experience.
When viewed through a screen, the first touchpoint you have with customers is through enticing visuals with crave-inducing photographs. The Stellar Studio team of seasoned professionals and experts can offer professional food photography service from start to finish of your campaign production.
Partner with us for your styling, capturing, and post-processing, and attract hungry customers across your socials and queueing at your restaurant. Visit our food photography studio and organize a shoot for your best-selling dishes to drive even more business!
Benefits of Hiring a Professional Food Photography Services
---
Outsourcing the full extent of skills and experience of professional creatives for your food photography shoot is just one of the perks that you gain from partnering with a food photography company. Capturing food in photos requires an eye for detail, technical skill, and creativity for unique photo styling. Our professional food photography studio has all this and more, so you can be sure that your venture is in good hands.
Below are some of the features that you and your team can enjoy by partnering with a company that specializes in food photography:
Visuals so Good, You Can Taste It
Have customers craving your dishes from the get-go by using commercial food photography to create delectable campaigns featuring your best-selling and latest dishes.
The services of a food photography company are a great investment so you can remind past customers about what they keep coming back for more while showing customers-to-be exactly what they were missing out on
Grow Your Business
Whether you wish to expand your business into multiple restaurant locations, grow your restaurant portfolio, or simply develop new recipes for your current restaurant site, growing your business is an important part of your success. However, business growth and development takes plenty of time and resources. Give yourself more time to focus on business growth by pitching your concept to our team. Leave the execution to a food photography company that you trust so you can spend time on the things that matter most.
Improved Online Brand
Creating a cohesive feed or amassing new marketing assets that you can use on-site are all excellent ways to improve your brand. Not only will your channels become more enticing, but it will also make your dishes and socials more memorable to your target audience. Partner with a professional food photography studio and keep your customers engaged and coming back for seconds– literally.
Create Feasts for the Eyes With a Professional Food Photography Studio
---
Feasting with the eyes is the first step into a foodie's heart– and wallet! With our professional food photography services, you can create memorable visuals that will have new customers coming and old customers coming back for more. Boost sales and return customers by getting in touch with us today!
Why Hire a Professional Food Photography Company?
The restaurant industry is currently valued at a whopping 799 billion USD. However, this number does not come without a cost. Most restaurant and food businesses that succeed only do so by marrying the quality of three things: their food, their brand, and their business operations.
With strong competition, you need first-class commercial food photography.
More often than not, business owners focus on the first and the third – letting their brand lag behind. A strong brand for your restaurant requires stunning images of your best-sellers, as well as a cohesive image for marketing across the board. By partnering with a food photography studio, you can dedicate efforts on menu development and streamlining business operations while you leave the creatives to us.
Frequently Asked Questions (FAQs)