During the pandemic there's one beauty item that went skyrocketing off the shelves, and no it wasn't lipstick. As masks covered the lower half of everyone's face, makeup enthusiasts and gurus turned their attention towards their eyes–specifically, their eyelashes. That's when mascaras, eyeliners, and eyeshadows took the center stage and cosmetic product photography zoomed in on the windows to the soul.
As more companies boasted increased sales on all eye makeup products, we were asked to create a series of photos in one day for Avon True Mascara. Our ability to switch lighting quickly from a product set up to an upscale beauty set up made us the choice studio to work with. Paired with our expert retouching services, our experts delivered a fresh, fun, and classic photoshoot that features Avon's products wonderfully.
Here's how we highlighted the Avon True Mascara in a cosmetic product photography setup:
The Best of Details: Highlighting the Avon True Mascara
Before we started the shoot, we took note of the features that set Avon True Mascara apart. In this case, we know that Asian lashes generally tend to be quite thin and short. This is why the mascara's ability to make them pop out became the highlight of our cosmetic shoot.
To help us out, pro makeup artist Suzy Tan put the product to the test and applied the Avon No Limits mascara to our model. And the mascara truly delivered! The detail and length could be visibly seen right away. There was no lengthening of the finished results in post production. What you see is what you get!
Behind The Scenes: The Avon True Mascara Shoot
The Avon True Mascara shoot was shot in our studio with Rebecca van Ommen as the lead photographer. Her expertise and accolades in commercial photography made her a prime choice for this shoot–and she delivered!
With the makeup done by the amazing Suzy Tan, art direction by Elvin Julian, and retouching services from our partner, Paper Boat Creative, we created a luxe product shoot that captured the style and elegance of Avon True Mascara.
Check out some our behind the scenes photos here: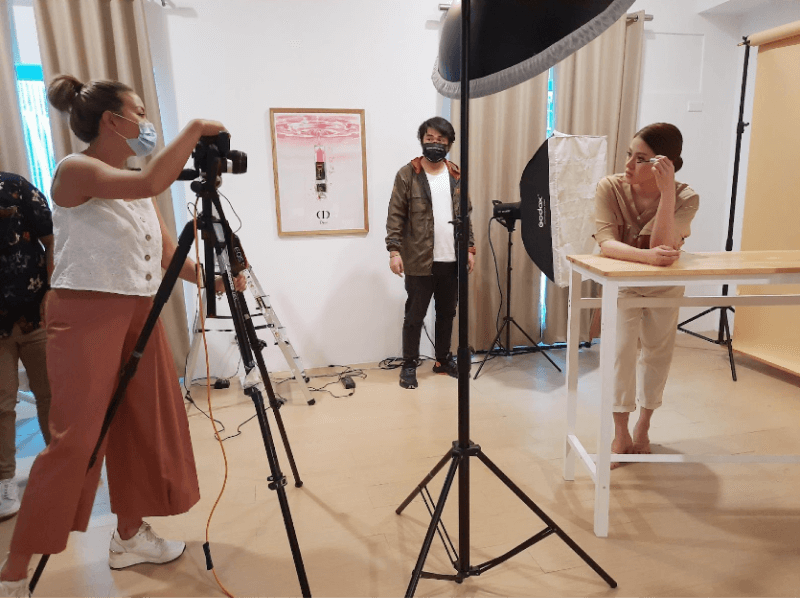 At the helm of this project is the talented art director Elvin Julian from LSS Agency. Once the shoot was done, he had to make a selection of his favorite photos for editing. Through his keen eye and expert guidance, post production was even more refined.
Once the final photos were selected, we passed over the selects to our retouching group, Paper Boat Creative.
Another job completed with ease and professionalism!
If you'd like to book us for a shoot please get in touch with us at [email protected].